When I was young my mother taught me an important lesson. "Never ask a woman if she is pregnant unless you know for sure she is". Good advice I have always heeded, for good reason. I have found in my 55th year that this applies to me.  
In 2011 my wife, Adrienne and I, both under took a lifestyle change. Together we lost 70 and 50 pounds each.  Through a lot of hard work, we were able to maintain this weight for six years. Early this spring we decided to move closer to our ideal weight and both shed an additional 30 pounds. In both instances, the changes in our bodies were obvious.
I found in both weight-loss efforts, as you approach and pass the 50 years of age mark, I became much like the pregnant woman. Many people were shy to ask about our weight loss because at my age sometimes you lose weight due to illness versus desire. Losing weight and changing our food lifestyle has really made a difference in our lives that we are proud of.
Check out the difference yourself in the pictures from 2011 and 2017. I cannot even imagine the difference in how I and my wife look today. I think that if I never was overweight, people probably would never ask "are you ok?". We realize for our height we are now in our healthy weight range.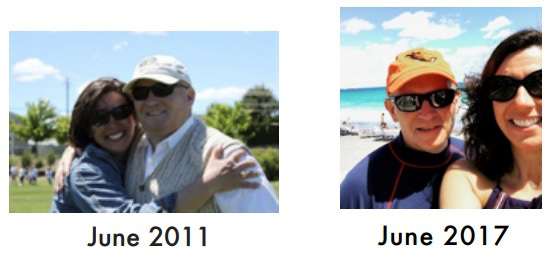 I do have something else I want to share with you. In what was a three-year odyssey of tests, about a year ago I was diagnosed with Multiple Sclerosis (MS). It has slowed me down a little bit especially on my left side, MS for me has not been significantly debilitating, nor has it caused me any cognitive issues.  
If you were going to have Multiple Sclerosis believe it or not there is a good kind and a bad kind. By the grace of God, I have the good kind. Good is defined as, there are drugs to slow progression and the prognosis is I will live an average lifespan, albeit with some disability. Since my initial symptoms, I have been stable with no more progression of the disease.
To tell you the truth, my diagnosis has been somewhat of a blessing. It has made me slow down and enjoy life more; not to talk so fast, not to walk so fast, enjoy moments more and enjoy my food, slowly! I really believe the hardest part of the disease is learning humility – – I think God is trying to teach me a lesson – – a good one.
If you have questions or concerns about my weight loss or my disease please feel free to ask me. I promise you no question is "off-limits" or unwelcome. I am comfortable in my skin now and very capable of sharing about this journey I am now on.
Finally, I want to make it crystal clear that neither my weight transformation or my MS diagnosis will take away from my duty and passion to help in your wealth building efforts.  I plan on working for you and with you for many, many years to come.