Troy checked off a box on his bucket list in February. Got to go tour the Panama Canal. It was truly amazing. A phenomenal engineering feat.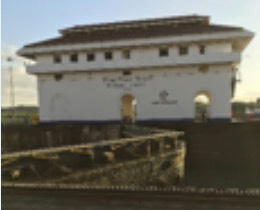 Josh has been enjoying the plentiful snow this winter, and skiing as much as he can in-between work trips. He attended several Oregon basketball games this year, and went to both Civil War games. He has enjoyed getting to know all our new clients in Eugene, and is eagerly anticipating the summer sunshine.
Cheri has enjoyed the winter, even with all the snow. A visit with her parent's in Arizona got her ready to move on to Spring. She's hoping that warmer weather and some flowers are right around the corner. Easter tradition has her coloring eggs and hiding them along with baskets of candy. She is busy thinking of places where her grown kids will be challenged to find them. With her first Granddaughter due in June, she is struggling not to buy all of the cute baby girl things she sees. With so much to look forward to, she feels very blessed.
Audra got to see some real winter in Oregon finally. It was impressive in different ways including snow slides at Hogg Rock and huge piles of snow in Bend, Baker City and John Day, and great conditions for skiing. Now she is really ready for some change and spring colors.
Alisa says in Eugene we have had our abundance of the liquid sunshine and is probably not the only one who is ready for drier days and vitamin D from some sunshine!  Winter weather kept her indoors more than usual this winter which made for a good reason to cook comfort foods and baked goodies for her family. She had fun watching Thurston basketball, as her son's team had an amazing season with just one loss. Now she's heading outdoors for the smell of fresh cut grass along with the sound of the crack of the bat. Bring on spring.
Sarah and her husband Alec are up to their eyebrows in 15 year old teenager with their daughter Audrey and it has been a pretty smooth ride so far. As a freshman Audrey made it onto her school's varsity lacrosse team and is maintaining a 4.0. She is transitioning beautifully through life from a girl in Vans to a young lady in Converse and Sarah and Alec are doing their best to relish every moment.
Tyler is looking forward to a busy spring with his family watching his daughter Reece in her soccer matches and coaching his son Finn's baseball teams. The entire family is wondering if Spring/Summer will ever come to the Pacific Northwest. He is also looking forward to meeting with more and more of our clients in Eugene.
Shelly is our newest Client Services Associate and brings with her a strong background in customer service. She is new to the industry but not to the area. She moved to Central Oregon 15 years ago from the Portland area and currently resides in Redmond with her husband Rob, her recently adopted dog Cindy, and her cat Leila. She has 2 adult children, Tyler and Emily, and a teenage stepson, Connor. She enjoys spending time with them as often as possible. She is looking forward to the warmer weather and spending most weekends adventuring in the great outdoors.